for CLERGY & MARRIAGE EDUCATORS.
If you are responsible for selecting a marriage preparation for your church or organization you are most welcome to call me, Fr. Rob Ruhnke, (210-534-1129) or email me < click for form
For Better and For Ever covers all the important topics/issues. 21 chapters include: Study of your Family of Origin, Money Matters & Career Planning, Planning the Wedding, Options for Mixed Religion Marriages, Parenting, Couples who are living together, Blended Families, Rituals of Engagement, Prayer, Marital Spirituality, and more. 3 editions: Catholic, Protestant, and Secular are designed to meet the needs of every couple.
Personal Responsibility. The format facilitates personal learning and sharing with one's partner. Each chapter concludes with an extensive series of questions for personal reflection and then dialogue with his/her partner.
Designed for many different situations. Couples living far from one another during engagement can use For Better and For Ever for personal study and then dialogue by email, phone or letter.

A Resource for the important first year(s) of Marriage. When the honeymoon is over, For Better and For Ever includes questions for 3 months and 6 months into marriage for further reflection and conversations with one's spouse and Sponsor Couple.
More Information & Resources for setting up the use of For Better & For Ever: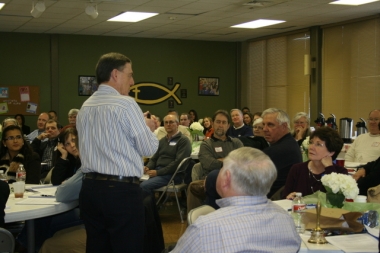 Key articles for Pastors & lay leaders.
Table of Contents for the 9 documents about Sponsor Couples
1 – Canons 1063 & 1064 – Catechesis and Preparation for the Vocation of Marriage
2 – Canon Law & sponsor couples for Matrimony
3 – Sponsor Couple Research by Dr. Mary Velasquez
4 – Criteria for Selecting couples to be sponsor couples.
5 – Diocesan Structure – Sponsor Couple Committee & Trainers
6 – Question: How to translate sponsor couple into Spanish?
7 – A "Rite of Christian Initiation for Adults" for Matrimony – 6 points.
8 – A parish plan for REMOTE, PROXIMATE and IMMEDIATE marriage preparation.
9 – Sponsor Couples – Peer to Peer process benefiting engaged couples & sponsor couples.
---

Video - How to use For Better & For Ever for a Group of Couples?

Here is a PDF you may find useful in planning your program after viewing the Video > John Mungham's Key points