Follow-up beyond the wedding.
We have known for decades that even the best marriage preparation is not enough to adequately prepare couples for the reality of marriage beyond the wedding ceremony. Being "in love" provides the motivation to get couples through all kinds of challenges on the way to their wedding day. However, when their wedding is "history" and they settle down to the reality of marriage ~ and all kinds of demands and responsibilities ~ they soon grow beyond being "in love" and they discover that they are not growing closer to one another and they are no longer seeing only the best in each other.
Successful married couples know from personal experience that ~ in hindsight ~ this experience of disillusionment is actually the next phase of marital love. Why? Because only when the couple has grown beyond the wonderful-but-not-real illusions of romantic love are they capable of seeing each other more fully and honestly (the weaknesses as well as their strengths) and ~ using the right skills ~ can build a deeper kind of love. But, most couples don't know how to love one another when each of them is feeling less loved by the person they were once "madly in love with." Their feelings of complete trust have gone away and they are feeling distant from one another and even afraid of each other!
When you ~ the Sponsor Couple ~ met with them before their wedding day, they believed they would never feel this way about one another. Even though you told them that you would always be ready to support them after the wedding ceremony, they are likely to hesitate to reach out to you because they are embarrassed to be "out of love" with one another and they don't want to "disappoint" you. That is why it is so important that you take the initiative to reach out to them.....
You know the value of meeting with them face to face (as you did before the wedding), and that would be the ideal way to "follow-up" after the wedding. But it may be very difficult to carve out time in your busy lives to set up a face to face meeting (and maybe they now live in a different city), so the best way to reach out to them is probably to call them on the phone. If you (their sponsor couple) make the call, and ask them how they are doing....it is very possible they will be open with you and share with you what is really going on.... And all you have to do is LISTEN! Don't worry about thinking up solutions to their problems....the most important thing you can do is LISTEN to them....and then help them to LISTEN to one another.
You can do more than merely LISTEN. But LISTENING to them is the most important first step. If you need help with any next steps, you can look for ideas on the web site (See Resources) If you need additional assistance go to Contact Us.
In 2008, John & Sharon Harry sponsored Christa & Todd Chapman. They also sponsored Todd's parents. Fr. Ruhnke was the priest for Todd's parent's wedding....and now for Todd & Christa.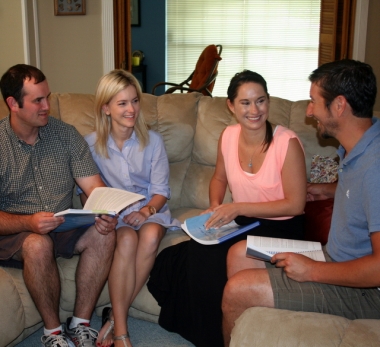 Todd & Christa are already involved as a sponsor couple. Here they are meeting with Matt Malek and Margaret McDonald who will be married September 14th, 2013. They also help with the training of new sponsor couples.